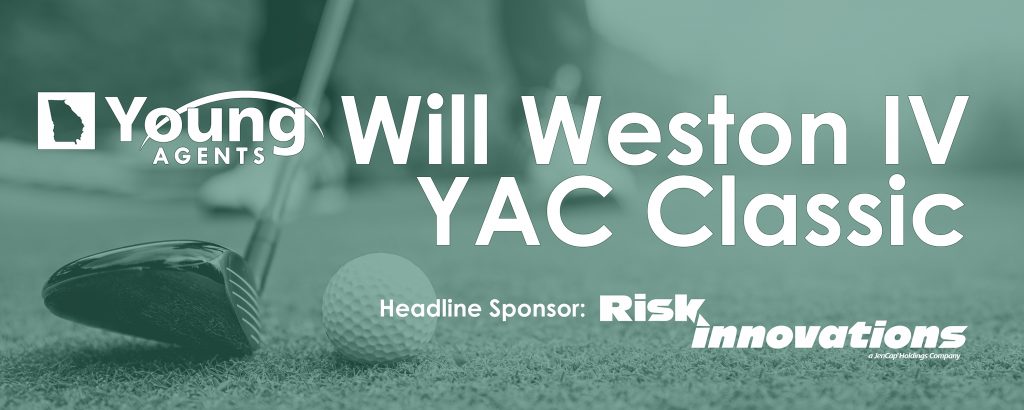 Rescheduled for November 2 at Brickyard Golf Club in Macon!
Monday November 2, 2020
11:15 a.m. Lunch

12:00 p.m. Shot Gun Start

5:30 Prizes and Awards Ceremony
Brickyard Golf Club in Macon
6000 Wesleyan Dr. North
Macon, Georgia 31210
2020 Tournament Teams & Players
Amerisafe: Rocky Mankin, Chris David, Kris Wilkerson, John Worley
AmTrust:  John Thomason, Nolan Wells, Dorothy Howell, Mitch Rosenberg
Blanchard & Calhoun:  Robbie Moore, Ash Smith, Stephen Poole, Brad Thomas
CompTrust ACG: Blake Cone, Greg Dorsey, Kyle Garettson, TBD
FCCI: Evan Kobialka, Kenneth Grace, Luke Daniel, Hinson Arwood
Genesee General: William Weston, Mike Patterson, Zac Bryant, Eric Silver
Hanover Insurance Group: Brandon Schafer, Lawson Burnat, Brian Bono, Anthony Burger, Jr.
NC IIA: Aubie Knight, Mark Rice, Landon Bentham, Kyle Fera
ICW Group: Ashley Morris
Insurance House: Bill Mathis
Liberty Mutual: Chad Holsombeck
McGarity Insurance: David Womack, Michael Standard, Kim Braswell, Lindsey McGarity
North Point Underwriters: Thomas LeBlanc, Kyle Grunskowski, Rob Farnsworth, John Herrin
PES Enrollment: Brian Franks
Rhodes Risk Advisors: Thomas Reichert, Mike Davis, Kenny Goepp, Jordan McDonald
Risk Innovations: Bruce Peddle, Carrie Cheeks
RPS - Risk Placement Services: Jeff Robinson
RT Specialty: John Gray, Scott Haynes, Boothe Perry, Josh Adams
RT Specialty: Omar Hasan, Keith Shearer, Matt Lopez, Thurson Davis
Selective Insurance: John Gundlach, Mike Ivkovich, John Tereshinski, Mark Shaw
Stonewood Insurance: RJ Thompson
Summit Holdings: Pete Deyo
Synergy Insurance: Joanna Lee
Westfield Group: Jeff Gable
Zenith: Megan Domenicone
Team:  Andy Siegel, Lei Redding, Chet Shonk, Connor Jones

Thank you 2020 Tournament Sponsors!
1
2
3
4
5
6
7
8
9
10
11
12
13
14
15
16
17
18
Grange
Pritchard & Jerden
Accident Fund
Summit
AgriTrust of GA
Berkley SE
FCCI
Donegal
Genesee General
State Auto
Open!
RPS
Chubb
Hull & Company
Synergy Comp
Capital Premium Finance
RT Specialty Binding Authority
Markel
Central Mutual Insurance
Keystone Insurance Group
OPEN
Selective Insurance
Georgia Admin. Services
FFVA
UBIC - Get Comp!
PES Enrollment
Amerisafe
McGriff Insurance Services
Synergy
ICW Services
North Point Underwriters
Zenith
EMC
Key Risk
Sterling Seacrest
Method Insurance