IIAG Young Agent Committee
The Georgia Young Agent Committee is made up of Young Agent members under 40 years of age and is the premier group for professional growth and lifelong relationships in our industry.  The future of the independent agency channel rests on the development of the next generation of agency leaders and their success within the industry.
This committee seeks to nurture that success and provide opportunities for:
Leadership

Sales training

Improving communication skills

Networking

Advocating for the industry

Mentoring
Membership is open to all IIAG members younger than age 40. Young Agent membership is free for all IIAG Members. To learn about upcoming events & YAC opportunities, please subscribe to the Young Agent Newsletter below.
Save The Date
Young Agent Sales & Leadership Conference
February 7-9th in Athens, Georgia
>  Education & CE
>  Networking
>  Night Out Downtown Athens
>  And More!
Award Winning Young Agents
Each year, the National Young Agents Committee presents awards to recognize outstanding efforts put forth by the state committees in several categories. Our Georgia YAC is proud to be the recipient of the following awards.
Community Focused.
Young Agent Driven.
Our impact extends beyond career development. Each year our Young Agent Chairman selects a Georgia based charity to team up with. Fundraising and joint events occur throughout the year, with the proceeds of our YAC Will Weston IV Golf Tournament being donated. This year, chairman Jordan McDonald (Rhodes Risk Advisors) has selected Extra Special People. ESP exists to create transformative experiences for people with disabilities and their families, changing communities for the better!
Invest is a unique national program that educates high school and community college students on insurance, financial services and risk management topics, and encourages them to pursue a variety of careers in the insurance industry.
Throughout the year, Georgia Young Agents actively engage with the Invest program and assist in onboarding programs for Georgia schools. Our fundraising consists of both an Annual Wine Toss and Cornhole Tournament at the IIAG & YAC Annual Conference.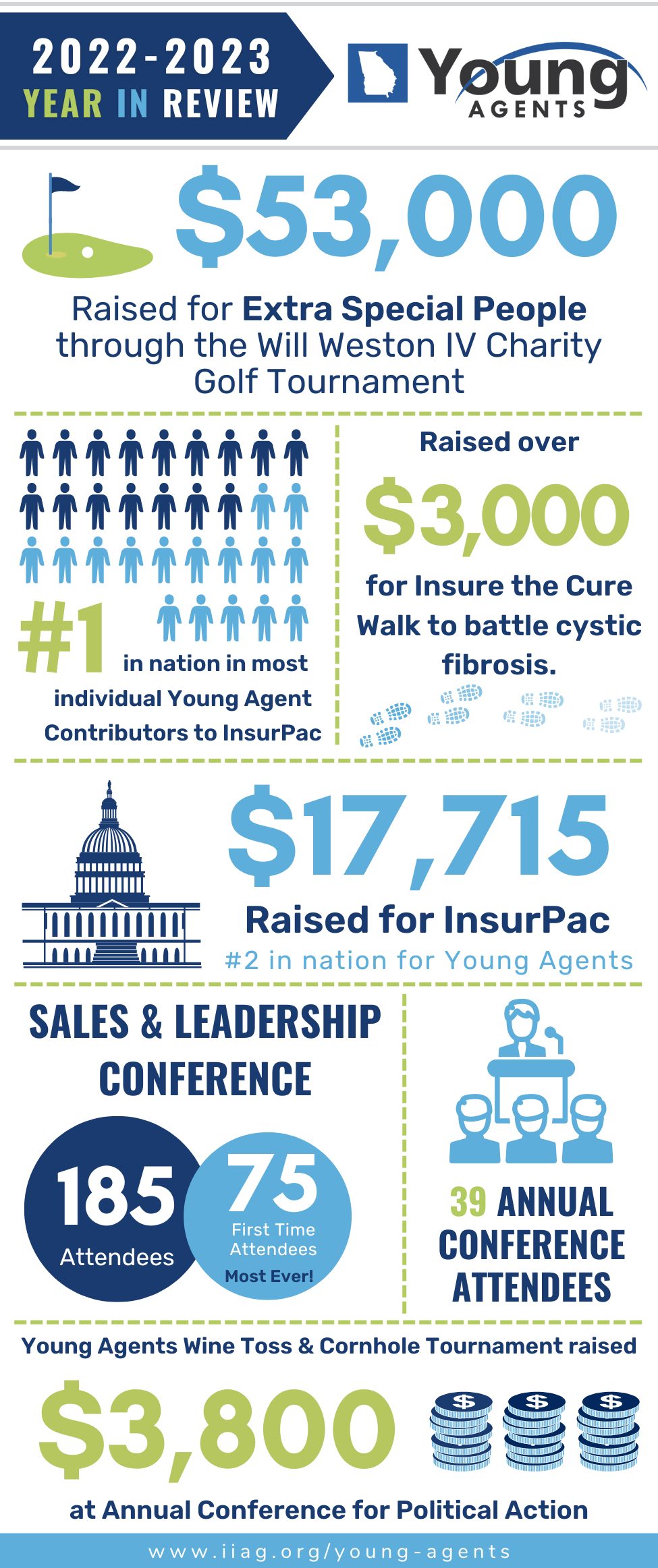 Interested in joining the Young Agents Committee?
The best way to stay up to date with events & opportunities is to subscribe to our email list! We also recommend following Independent Insurance Agents of Georgia on social media for all IIAG & Young Agent updates!
Young Agent Calendar 2023
Mark Your Calendar for Our Annual YAC Events!
YAC Sales & Leadership Conference
Date:   February 8-9, 2023
Location:   Classic Center
City:   Athens, GA
Will Weston IV Golf Tournament
Date:   March 23, 2023
Location:   Jennings Mills Golf Club
City:   Athens, GA
Insure The Cure Charity Walk
Date:   May 20, 2023
Location:   Suwanee Town Center
City:   Atlanta, GA
Big "I" Legislative Conference
Date:   April 26-28, 2023
Location:   Renaissance Downtown
City:   Washington, D.C.
IIAG & YAC Annual Convention
Date:   June 8-10, 2023
Location:   Omni Resort
City:   Amelia Island, FL
IIAG Connect Fall Expo & Conference
Date:   November 1-3, 2023
Location:   Brasstown Valley Resort
City:   Young Harris, GA
Meet Our Young Agent Leaders
Director at Large and Governmental Affairs Chair
Thomas Reichert
Rhodes Risk Advisors
Past Chair Advisor
Julianne Graves
Marsh McLennon
Member at Large
Austin Panter
Kevin Panter Insurance
Join IIAG to access Young Agent events & more!
Thank You Diamond Partners!